---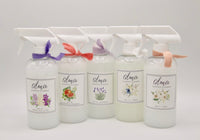 Great on all non-porous surfaces like finished wood, tile floors, countertops & bathroom fixtures. Simply spray, wipe & enjoy your favorite Alma scent. Made with natural plane based ingredients Ingredients: Distilled water, hydrogen peroxide, castile soap, essential oils, & fragrance Color & texture may vary with natural ingredients. All products are tested by an Alma & are cruelty-free.
No 9 Cozy  A warm inviting scent with hints of amber and sandalwood. 
No 24 Lavender A crisp scent of fresh lavender with a hint of citrus.
No 17 Fresh The fresh aroma of sun-dried laundry. 
No 12 Grapefruit Bouquet  This clean citrus scent pairs the zest of fresh grapefruit with the earthy green smells of vetiver and a bit of jasmine.
No 15 Fresh Cut Lilac
No 10 Seaside  A cool and crisp mix of sun-kissed coconut, white magnolia & bergamot with hints of a sea salt breeze. Whether it's the beach, lake or cottage, this new scent takes you to that summer place!
Alma Original  This is the scent that started it all! The Alma Original blend is a perfect mix of soft cotton, fragrant gardenias, & sweet honeysuckle with a light sandalwood base. Fluffy towels, bedding, any everyday laundry...the scent is fabulous on everything!
No. 27 Harvest  The perfect fall scent! Its creamy, pumpkiny, and spicy. Just one smell and I'm ready for sweater weather!

No. 32 Festive  This scent combines everyone's favorite Holiday smells. Christmas greens like pine and spruce paired with orange clove, cranberries & a touch of firewood. It's basically Christmas in a bottle!

No. 29 Winter Plum This blend of sugary plum nectar, sweet red wine, freesia & vanilla create the perfect luxurious scent to brighten those winter days