---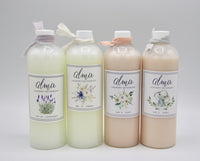 No 9 Cozy  A warm inviting scent with hints of amber and sandalwood.
No 24 Lavender  A crisp scent of fresh lavender with a hint of citrus.
No 17 Fresh The fresh aroma of sun-dried laundry.
No 4 Baby Baby is made with our natural plant based softeners and is nontoxic, eco-friendly, and safe for baby clothing. Our Baby scent is a calming powdery scent with hints of chamomile, violet, and sweet orange blossom
Alma Original  This is the scent that started it all! The Alma Original blend is a perfect mix of soft cotton, fragrant gardenias, & sweet honeysuckle with a light sandalwood base. Fluffy towels, bedding, any everyday laundry...the scent is fabulous on everything!
No 10 Seaside  A cool and crisp mix of sun-kissed coconut, white magnolia & bergamot with hints of a sea salt breeze. Whether it's the beach, lake or cottage, this new scent takes you to that summer place!